Dancer Danger is the thirty-fourth episode in the first season of Unikitty!.
It first aired on July 23, 2018.
Synopsis
The Futon Critic
Unikingdom's throwing a kingdom-wide dance, a fun event where everyone dresses up and busts a move. Everyone's excited... except for Richard, who's terrified to let loose and feel his inner groove. Unikitty knows Rick needs to express himself but can she and the others convince him to break out of his shell with some minor robotic body enhancements?[1]
Plot
To be added.
Transcript
For a full transcript of "Dancer Danger", click here.
Characters
Main
Minior
Songs
Pop Culture References
Unikitty's dancing at the start of the episode may be a reference to the 1983 John Travolta film "Staying Alive".
The way Rick says "Groovy" at the end (after defeating Groove-tron) is a reference to Evil Dead's Ash.
Broadcast Information
This episode first aired July 23, 2018 on Cartoon Network in the United States.
Gallery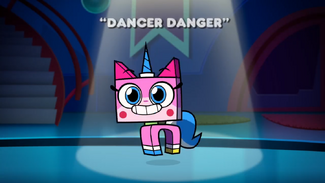 The image gallery for Dancer Danger may be viewed here.
References